The nightmare causes the entertainers to slip into another horrific dream until their exhausted bodies rise struggling to breathe within the darkness they face. It is the 140th day since the beginning of a massive lockdown caused by the outbreak of the Covid-19 coronavirus. Their futures remain locked in agony.
Their rockstar ego was fierce enough to prevent tears, yet the hurt burns a wildfire as they face the prospect of having to sell a part of themselves; the equipment and tools which are their faithful partners in trade. Yet, the painful selling will provide temporary relief for their families.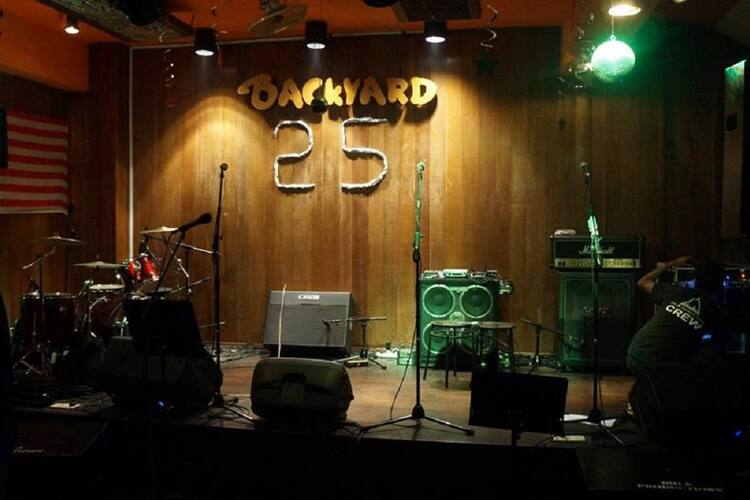 The sight of an empty stage and its silence have much stories to share for us (image by Zomato)
For entertainers – especially DJs and musicians – their main employers are pubs and clubs. After almost five months and with no end in sight, these outlets continue to be closed and the impact is felt by most live music performers in Malaysia who have not been able to perform and entertain.
With no income to treat regular expenses, that affect even their basic needs such as housing, a lot of them have tried to get into other businesses, such as food and music equipment. While a small percentage have privilege to be able to run these trades, others are left suffering.
Entertainers are left fending for their own. One group appeared on a quest to get locations for musicians to sell items such as food, while busking. Others are seeking discussions with the relevant senior government officials. Some taking action into their own hands by getting F&B outlets to start performances.
BRADA, who pride themselves as a social commitment and endeavor to assist needful communities, initiated the Malaysian Musicians Food Bazaar, an offering until the situation for musicians improve.
Smaller entertainment communities such as DJs are left out of most discussions, and their voices barely heard even though they are some of the most affected, and are almost completely ignored in any discussions about entertainers. Little is mentioned about their fate and how they are coping with this pandemic.
Where can entertainers voice out about their predicament? FINAS? Ministry of Tourism? None of the entertainers groups are sure. Questions are bounced. Even an NGO that was supposed to address the lack of official channels to the government for the past twenty years says Ministry of Communications and Multimedia (maybe).
A petition launched by live music performance great Vishnu Shakthi was unheard by relevant ministers

Petitions, articles, even letters have surfaced with high hopes to gain attention of whoever from the government about the plight of entertainers. However, they are met with, at best, short occasional comments and nothing else. It seems in the eyes of this government, entertainers are too insignificant to inspire action.
It is not helped by the environment of ignorance. Side A, senior members of the government who have little ideas how the live entertainment music industry works versus Side B, many entertainers who have little knowledge about infectious diseases. Both parties end up talking to themselves or their own groups.
The later result? The relevant authorities allow "indoor busking" but with SOPs that are lightly set-up and musicians are perplexed with the details. The application of the SOPs is troublesome as it can stifle expressive freedom for many, leading to some musicians crying foul and claiming theoretical conspiracy against them.
Another larger problem is the stigma overshadowing buskers due to its likeness to begging and the language used by authorities who sanction them. Many of the musicians and singers are established, who have worked with Malaysian greats. To have them perform for miserly tips may be too big an ask.
As for DJs, due to their association with clubs, almost all of them have been totally jobless as long as the outlets continue to be closed. Even those who supply audio visual equipment are hit as there are no shows to supply their sets to. Let alone a mall event.
What more with other entertainment centres like karaokes, cinemas, even performing arts centres open again; while the complexity of dealing with Covid-19 with entertainment involving an audience is understandable, the lack of effort by anyone within Malaysian government to at least try to formulate a plan for entertainers is baffling.
Many entertainers, even notable ones, are currently plugging online performances to keep their names relevant. Some have even resorted to performing daily for hours to ask friends and fans for tips, which are often very little. Options and choices to keep afloat are becoming less as the months go by.
It is certainly time for the relevant authorities to sit down and have a serious long discussion with the entertainer's groups. Not a Q&A seeking replies or a brief meeting, but a real talk that will offer solutions to a growing crisis without end, that is needed for all entertainers.